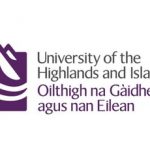 Làrach-lìn / Website thinkuhiUniversity of the Highlands and Islands
We are looking for an experienced public relations professional to join the university's communications team and increase our capacity at an exciting time in the development of the university. This role supports the communications and external relations manager in providing an integrated public relations programme fit for a 21st century university.
The role encompasses media relations, internal communications, events and public affairs, as well as contribution to various types of publications. Most importantly, because of the distributed nature of our university partnership, you will be an important ambassador for the team, and will need to develop great relationships both internally and externally.
You should have experience in working in public relations with a proven working knowledge of public relations principals and practice. You must be able to demonstrate good team working, networking and self-management skills and be able to work under your own initiative. You should also demonstrate a knowledge and understanding of Gaelic language and culture and show a willingness to improve and develop your Gaelic language skills.
Most importantly, you should demonstrate excellent interpersonal skills and a flexible and positive attitude at work. This can be a challenging although professionally rewarding environment.
Interviews will be held week commencing 4 February 2019.
Tha tagraichean dùinte airson an sanas-obrach seo. Tadhail air an duilleag obraichean airson cothroman ùra fhaicinn.
Applications for this position are closed. Please visit the jobs page to see new positions.